Bangladesh Bureau of Educational Information and Statistics published New job vacancy Notice at www.banbeis.gov.bd. banbeis-job-Circular offer New vacancy in this post. HSC, Degree Graduate, Preferable, Science, Must Qualify operator Aptitude Test Student also apply our website www.jobbari.com.
Bangladesh Bureau of Educational Information and Statistics Job Circular
NHRDF

Job Circular

Employer :

BANBEI

Post Name:
As per circular
Job Location:
Any where in Bangladesh.
No. of Vacancies:
47 posts
Job Type:
Full time jobs.
Job Category:
Government Job
Gender:
Both males and females are allowed to apply.
Age Limitation :
18 – 30 years.
Educational
Qualifications:
See details on circular image.
Salary :
As per government pay scale

Application Start Date:

18 February 2021

Application Deadline:

10 March 2021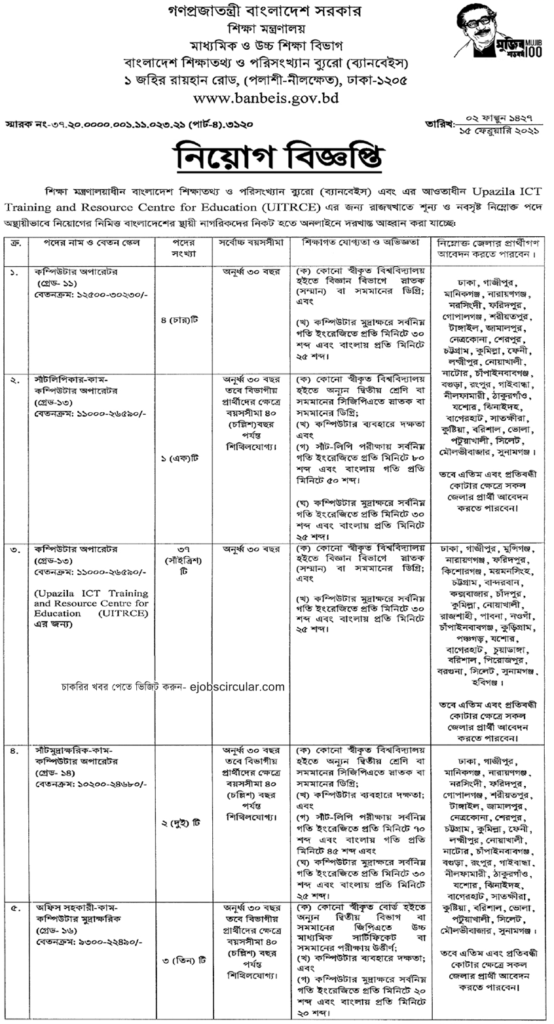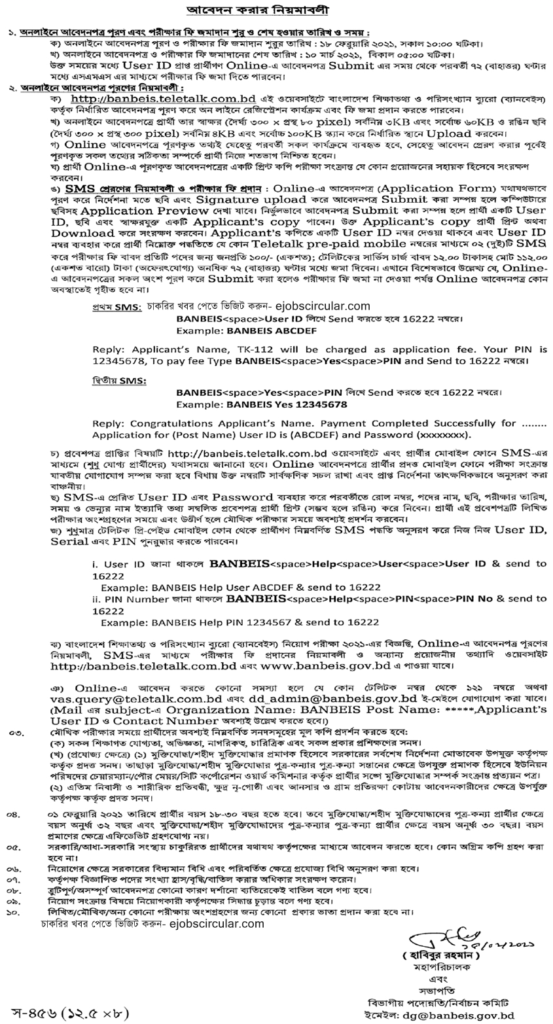 If You want to apply BBEIS jobs circular through online you have to visit there official website. For Next Updates about -Job -circular Vacancy Notice, Exam Result or Admit card Download stay with us.
Post Related Things: বন অধিদপ্তর, bd job today , new job circular 2021, jobbari.com, jobbari, job circular, bdjobpost, চাকরির খবর প্রথম আলো, সরকারী চাকরির  খবর, চাকরির বাজার, আজকের চাকরির খবর, নিয়োগ বিজ্ঞপ্তি 2021, চাকরির ডাক, আজকের চাকরির পত্রিকা, চাকরির পত্রিকা আজকের, নিয়োগ বিজ্ঞপ্তি, নিয়োগ বিজ্ঞপ্তি ২০২১, daily education, চাকরির খবর পত্রিকা, চাকরির খবর ২০২১, চাকরির খবর apk, চাকরির খবর bd jobs, চাকরির ডাক পত্রিকা, চাকরী নিয়োগ বিজ্ঞপ্তি, চাকরির খবর.com,daily চাকরির খবর, e চাকরির খবর, চাকরির খবর govt, চাকরি নিয়োগ বিজ্ঞপ্তি ২০২১, চাকরি নিয়োগ বিজ্ঞপ্তি, চাকরি নিয়োগ বিজ্ঞপ্তি 2021, চাকরীর নিয়োগ বিজ্ঞপ্তি, new চাকরির খবর, চাকরির খবর paper, চাকরির খবর পত্রিকা, চাকরির বাজার পত্রিকা, সাপ্তাহিক চাকরির পত্রিকা