Non-Govt School Admission Lottery Result 2022 Published 19 December 2022 . Non-Government School Admission Circular notice 2022 at www.gsa.teletalk.com.bd online application. Besarkari School lottery result 2022. Check Non-Govt School Admission result 2022. Govt School Admission Circular 2022 www.gsa.teletalk.com.bd Application Form. Govt School Admission Admit Card Download. Class One Lottery Result & Admission Result 2022.
Non-Govt School Admission Lottery Result 2022
Non-Govt School Admission in 2022. Bangladesh Government School Admission Circular 2022 at www.gsa.teletalk.com.bd online apply. Check Govt School Admission Circular 2022. Govt School Admission Circular. School Circular for Dhaka Mahanagar, Guideline 2022 for admission www gsa teletalk com bd. Class 9 admission result.
Class one lottery result www gsa teletalk com bd. Govt school class 1 lottery result. Govt school class two admission results. class three, class four, class five, class six, class seven, class eight, and class nine admission result. Govt school admission test admit card download. seat plan download. Online application form Govt school admission.
We have already mentioned that the concerned authority has decided to finish the govt school admission within January 2022.  The thing is that we need to see what is happening online and what is happening offline. No matter whether it is online or offline, the authority will end the application process and admission result publication process in the due time.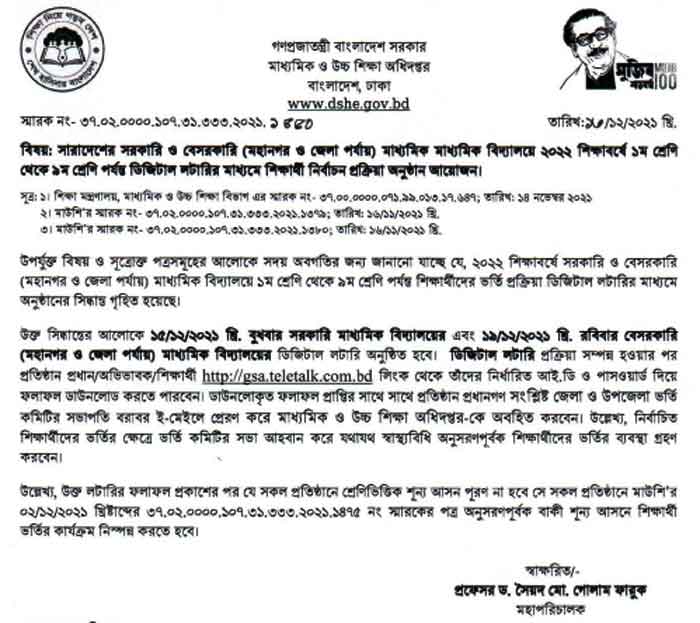 Students must need to pay the application fee of taka 110 through the SMS by the Teletalk prepaid SIM only. A student can choose the maximum 5 schools preference for the govt school admission. However, below are some important dates and information for the admission of class one to class nine:
Application Starting Date: 25th November 2021.
Application Ending Date: 10th December 2021.
Non govt Application Ending Date: 16th December 2021.
Application Fee: 110 Taka.
Application Fee Payment Process: SMS through Teletalk Prepaid SIM.
The lottery draw date for students: 19th December 2021.
The maximum number of schools selection: 5.
Govt School Admission Result 2022
The admission process for non-govt schools is going through all over the country. After completing the admission form, it is time to see the result and get admitted to the desired schools. This year's entire admission process will be held through a central lottery system. No admission test will take for admission.
GSA Result 2022 by SMS
After publishing the Web results of Government School Admission 2022, You can get Govt Schools result through your mobile SMS.
It's very easy to get your GSA result by Mobile SMS. Go to your SMS option and type= GSA <Space> Result <Space> USER ID and then send to 16222.
For Example: GSA Result GVWVFEXYSG and then send to 16222.
*N.B: SMS have to send from any Teletalk operator.
Related keyword : "govt school admission lottery result 2022" "government school admission lottery result 2022" "government school admission lottery result 2021" "school admission result 2022" "government school admission result 2022" "govt school admission result 2022" "govt school admission 2022 bd" "non govt school admission result 2022"