Dear SSC Student, Those of you who want to know more about SSC Result 2021 with , know that your results will be published between 30 December 2021. Besides, the Minister of Education will inaugurate the book distribution program for the next academic year as per the announcement of the ssc results.
So those of you who are waiting for the results of SSC 2021 and are worried about this issue, don't worry, wait till December 28 to 30. Moreover, the final date regarding your SSC exam result 2021 can be published at any time.
Students are always eager to get their full marks detailed results of their public examinations. to show them how to find out SSC results 2021 via online with mark sheet details number. If you want check your results please flowing this instraction :
Enter to this URL at www.educationboardresults.gov.bd
Fill out the Examination Field as 'SSC/Dakhil'
Select Your Examination Year '2021'
Then Select Your Education Board Name : …………….
Input your SSC/Dakhil 'Roll Number'
Input Your 'Registration Number' as well.
Answer of the little math question (E.G 4+9=13).
After completing all fields, Press the 'Submit' Button.
After clicking the 'Submit' Button you can see your result.
(Note: Fill out all the fields correctly, Otherwise you can't get your result).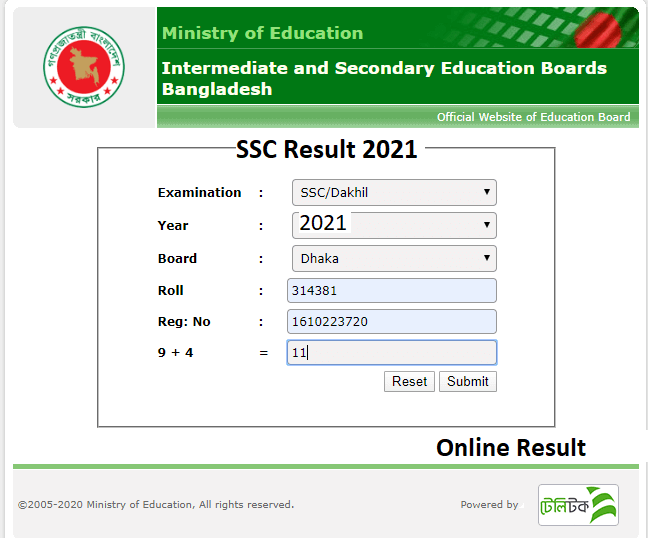 Subject wise Besides Grade points ssc result 2021 this year, a student also sees his/her Marksheet and see get how many marks in all subjects. To get SSC Results with Marksheet firstly a student visits this site. Given below the site and discuss all steps to get SSC Result with Marksheet 2021. Please provide information for result :
At very first, You have to visit here at https://eboardresults.com
2: Now, Choose SSC/HSC/JSC Result Option.
3: Select SSC/Dakhil/Equivalent,
4: Now Select Your Exam Year (2021)
5: Then, Select Your Board Name
6: Select Result Type: Individual/Institution/Centre
7: Enter Your Roll Number
8: Enter Registration Number (Optional)
9: Then, Security Key (4 digits)
At Last: Click The "Get Result" Button.
After clicking the "Get result" button you will find a new tab with your SSC Result Marksheet 2021.
If you still don't find result please inform us through a comment below.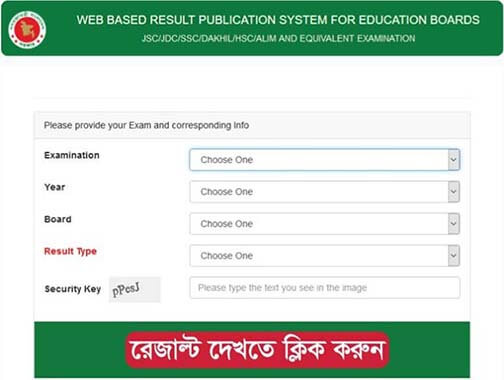 SMS Besides any operator gets his ssc result 2021 by sending a Text message using any Mobile Phone. A student must send an SMS after the result is published. After publishing SSC Result 2021 then students can able to get results by SMS. Using the SMS system, a student can see any boarding student result. Given below how to get SSC Result 2021 by Mobile SMS:
Remember before Sending SMS:
Keep Sufficient Balance in your Mobile Account.
Send Message After Publishing Result Officially (AT 11:00 AM).
SMS Can be sent any Mobile Operator.

SMS Cost 2.55 BDT Only.
Example : SSC <space> DHA <space> Roll <space> YEAR to 16222 Number.
(E.G

SSC DHA 1224555 2021> 16222

)
The example of Madrasa board is
Dakhil<space> MAD <space> Roll <space> YEAR and Send to 16222 Number.
(E.G

Dakhil MAD 1224555 2021

).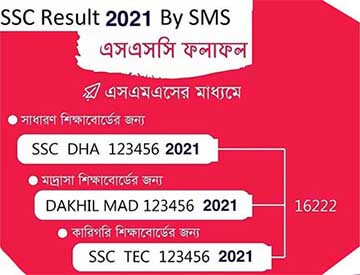 On this page, you can also see all public exam results. Please share our page with others so that they can also check their result. Stay with us Thank you. jobbari.com
Related keyword : ssc exam result 2021, ssc result 2021 check online, admission ssc result, about ssc result 2020, ssc result all subject number, ssc result and marksheet 2020, ssc result bd, ssc result check, ssc result institute, WEB BASED RESULT, ssc result 2020 with marksheet, ssc result 2021 marksheet, ssc result 2021 marksheet with number, ssc result marksheet with all subject wise number, ssc result 2021 kobe dibe, Education Board Result, Ssc result 2021, এসএসসি পরীক্ষার রেজাল্ট ২০২১, এসএসসি রেজাল্ট, এসএসসি রেজাল্ট ২০২১, SSC Result 2021 Date,